Gold, Copper, and Zinc Prospecting
Submitted by Staff on Mon, 12/05/2011 - 2:14pm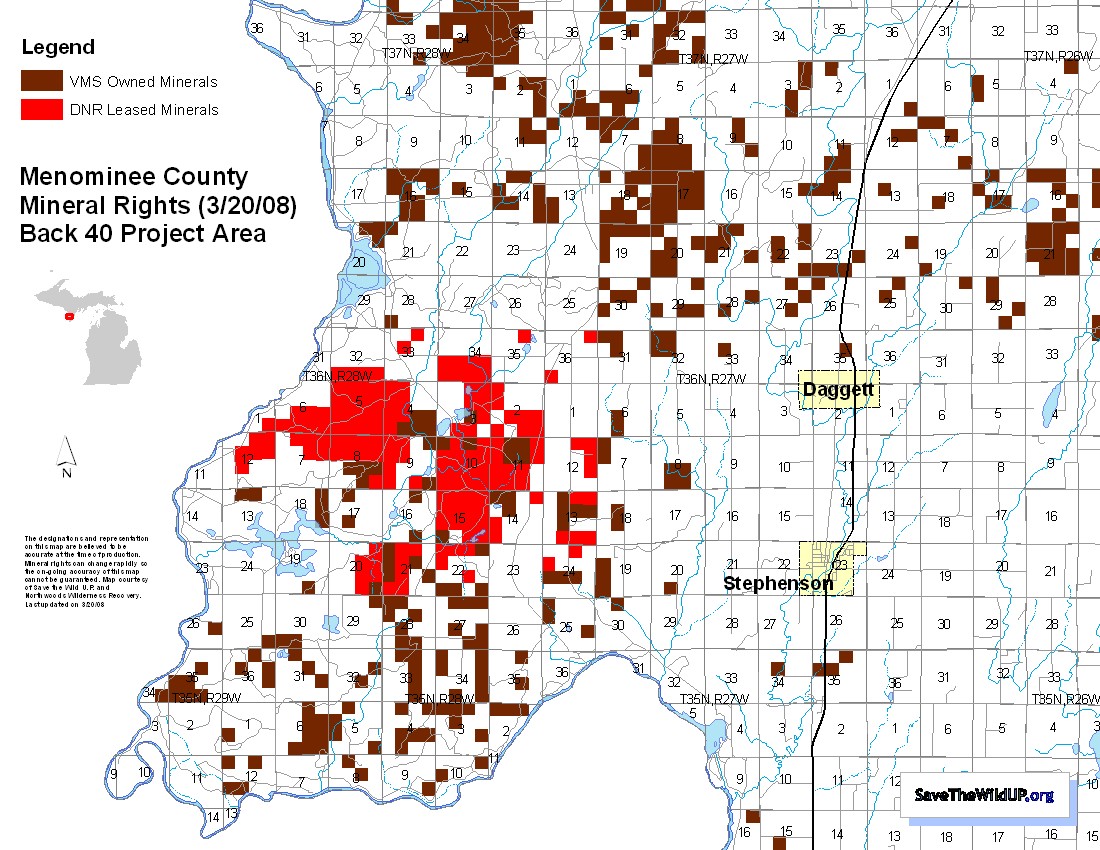 Canadian mining corporation Aquila Resources Inc. has been working with its partner HudBay Minerals to develop a sulfide mine called the Back Forty Project in Menominee County, MI along the Menominee River, which borders Wisconsin. The project is described by the company as at an advanced stage of exploration and is close to becoming a formal application to mine. (Map from Save the Wild UP)
Since last spring, Aquila has also been quietly investigating the possibility of new sulfide mines in northeast Wisconsin. They were granted a permit over the summer to drill 22 test wells in the Town of Easton, just east of Wasau. The site, called the Reef Deposit, was discovered by Noranda Minerals in the 1970s and contains native gold deposits, but at the time was considered too costly to develop. The company is also reportedly interested in the Bend and Lynne deposits. It received a permit from the Bureau of Land Management to begin test drilling the Bend Deposit, in the Chequamegon National Forest west of Medford in Taylor County, in winter 2012. The Lynne Deposit, in the Town of Lynne in Oneida County, is being "evaluated" by Aquila, Tamerlane Ventures, Inc., and Josephine Mining Corp., all Canadian companies. (Map: Milwaukee Journal Sentinel)
Hudbay runs Canada's largest Zinc Oxide plant in Brampton, Ontario. It is developing the Lalor sulfide mine near Snow Lake, Manitoba and runs the nearby Chisel North Mine, 777 Mine, Trout Lake Mine, and Flin Flon zinc oxide concentrator. It has also proposed to develop a "low cost" open-pit sulfide mine, the Constancia Copper Project, in Peru. Tamerlane owns and intends to re-open the Pine Point Mine in the Northwest Territories and runs the Los Pinos heap leach copper mine in Peru. Josephine runs the Turner sulfide mine in Oregon.
What You Can Do
Thanks to Wisconsin's Prove It First Mining Moratorium, sulfide mining is still illegal in the state until companies can find an example of a sulfide mine in the U.S. or Canada that hasn't polluted during its operation or 10 years since closure (and they can't). But the law doesn't stop companies like Aquila from exploring for sulfide ores, and if they find deposits they think will be profitable, we can be assured they will push hard to have the law changed. The best thing to do right now is tell your legislators, newspapers, neighbors, co-workers, etc. that Wisconsin's mining laws should not be changed to weaken environmental protections, public input, or local control over the permit process.
Sources:
Lee Bergquist. "Companies Consider Mining for Gold in Wisconsin." Milwaukee Journal Sentinel. November 27, 2011.
"Developing High Grade North American Deposits." Fact Sheet. Aquila Resources, Inc.
"Mining Information Sheet: Potential Metallic Mining Development in Northern Wisconsin." Wisconsin Department of Natural Resources. April, 1997.
"Josephine Mining Corp Appoints New Director." Press Release on Yahoo! Finance. November 3, 2011.
Tamerlane Ventures, Inc. Website.
"Our Business: Locations." HudBay Minerals, Inc. Website. 2011.