Celebrating 30 years of nonviolent nuclear resistance
Submitted by Staff on Wed, 07/21/2010 - 9:58am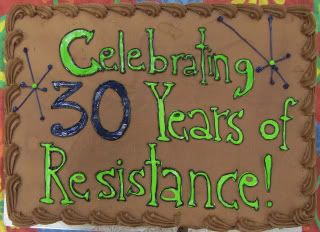 Two hundred anti-nuclear activists from across the country gathered in early July in Oak Ridge, TN for a powerful celebration of nonviolent resistance marking the 30th anniversaries of Nukewatch, (a WNPJ member group), the Nuclear Resister, and the first Plowshares disarmament action.
There was music, there was talking, there were puppets and Fourth-of-July burgers and watermelon -- and a birthday cake, pictured.
And on July 5, a new Declaration of Independence was delivered at the gates of the Y12 Nuclear Weapons Complex in Oak Ridge, after which 13 people crossed the property line and twenty-three more stretched a long banner across the road to block the entrance to the bomb plant.
Read the report here.