2010/07/12: Journal Sentinel: More illegal immigrants being deported for lesser offenses, advocate says
Submitted by Staff on Mon, 07/12/2010 - 8:54am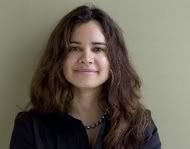 Many illegal immigrants in Wisocnsin now find themselves in deportation proceedings for traffic and various other minor infractions, Christine Neumann-Ortiz,(pictured), director of Voces de la Frontera, a WNPJ member group, says.
"In the past few years, we have seen a disturbing trend of escalated arrests of non-criminal immigrants who, through collaboration of local law enforcement agencies and Immigration and Customs Enforcement (ICE), end up in deportation proceedings," she wrote in a letter to Milwaukee County Board Chairman Lee Holloway and other county supervisors. UPDATE: County supervisors ask sheriff for more information.
Voces has "documented dozens of cases in the past 12 months in which immigrants, arrested for traffic violations or crime for which they were later found innocent, are now facing deportation," she wrote.
There also are increasing concerns about civil and labor rights violations, as well as racial profiling, she wrote.