4 Wisconsin House members vote to exit Afghanistan
Submitted by admin on Sun, 05/30/2010 - 10:45am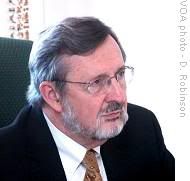 Four Wisconsin Democrats were among 162 House members who voted July 1 to require the Obama administration to provide Congress with an exit strategy and troop withdrawal timetable from Afghanistan. The foursome also voted to end all funding except for withdrawing US troops.
The 162 "yes" votes -- 24 more than last year, and including Speaker Nancy Pelosi this time -- were a new high water mark for opponents of the war. The amendment, By Wisconsin's David Obey, left, Jim McGovern of Massachusetts and Walter Jones of North Carolina, failed 260-162 with 11 not voting. Roll call.
Wisconsin members voting with Obey were Tammy Baldwin, Steve Kagan and Gwen Moore. Republicans Tom Petri, F. James Sensenbrenner and Paul Ryan were joined by Democrat Ron Kind in voting no.
Another amendment, by Rep. Barbara Lee of California, to restrict funding to the safe withdrawal of our troops from Afghanistan, got 100 votes including Obey, Baldwin, Kagen and Moore.