2009/10/17: Milwaukee Dems back Carbon Free, Nuclear Free policy
Submitted by Staff on Tue, 10/27/2009 - 9:46am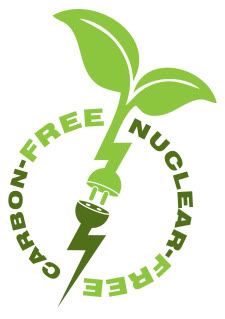 The Democratic Party of Milwaukee County overwhelmingly adopted a resolution Oct. 26 opposing efforts to relax the state law on nuclear reactors, and supporting passage of a carbon free, nuclear free energy policy for Wisconsin to make the state's energy 100% renewable by 2050.
Jennifer Nordstrom, national coordinator of the Carbon Free, Nuclear Free campaign, and Bill Christofferson of WNPJ's environmental work group attended and urged passage. Nordstrom had spoken on the issue at the party's August meeting.
The vote came at the end of a long meeting, as the crowd was dwindling, but the resolution passed 26-2 after a brief debate, with five people abstaining.
The full resolution:
RESOLUTION ON CARBON FREE NUCLEAR FREE ENERGY POLICY
WHEREAS since 1984 Wisconsin has had a sensible law requiring that before more nuclear power reactors can be approved there must be a federal waste disposal site in operation and a finding that nuclear power is economically beneficial to Wisconsin residents; and
WHEREAS after more than 50 years the nuclear industry has not solved the problem of how to safely dispose of high level radioactive waste, which must be kept out of the environment for hundreds of thousands of years; and
WHEREAS attempts are now underway to weaken state law and remove the requirement for a waste disposal site before more reactors can be built, with legislation expected to be introduced in the fall, as a way to combat climate change; and
WHEREAS a recent book, "Carbon Free and Nuclear Free: A Roadmap for U.S. Energy Policy," provides a detailed analysis showing that the goal to phase out the use of both fossil fuels and nuclear power by the year 2050 is technically and economically feasible; and
WHEREAS renewable energy and energy efficiency technologies are faster, cheaper, safer and cleaner strategies for reducing greenhouse emissions than nuclear power,
THEREFORE BE IT RESOLVED that the Milwaukee County Democratic Party go on record in opposition to any weakening of current state law regulating new nuclear reactors, and
BE IT FURTHER RESOLVED that the Milwaukee County Democratic Party urge the governor and state legislators to pursue and adopt a carbon free nuclear free energy policy to make Wisconsin's energy 100 per cent renewable by 2050.